Premier « vrai » article depuis le changement de nom du blog (toutes les explications ici), et pas des moindres puisque je sors dorénavant plus de la sphère beauté pour vous parler davantage de Bullet Journal. Et comme nous sommes le premier septembre, je me devais de vous présenter ma nouvelle organisation et la mise en page que j'ai faite dans mon Bujo.
Je me suis beaucoup inspirée d'images de Pinterest où j'enregistre pas mal d'idées (mon tableau spécial bullet journal juste ici), mais aussi de youtubeuses telles que Amanda Rach Lee qui est devenue l'une de mes Bullet Journal Guru ! haha
First « real » blog post since I switched names for my blog I went with « With Emilie ». Today I'm talking about Bullet Journaling and my Setup for the month of September. I wanted to make a contrast with my previous beauty category by integrating more lifestyle categories to the blog than beauty ones. And as evey good bujo addict blogger, I had to post on September 1st my bujo setup.
I was inspired a lot by Pinterest posts (my bujo board is right here) and also by youtubers like Amanda Rach Lee which became my Bullet Journal Guru in less than 3 days ! haha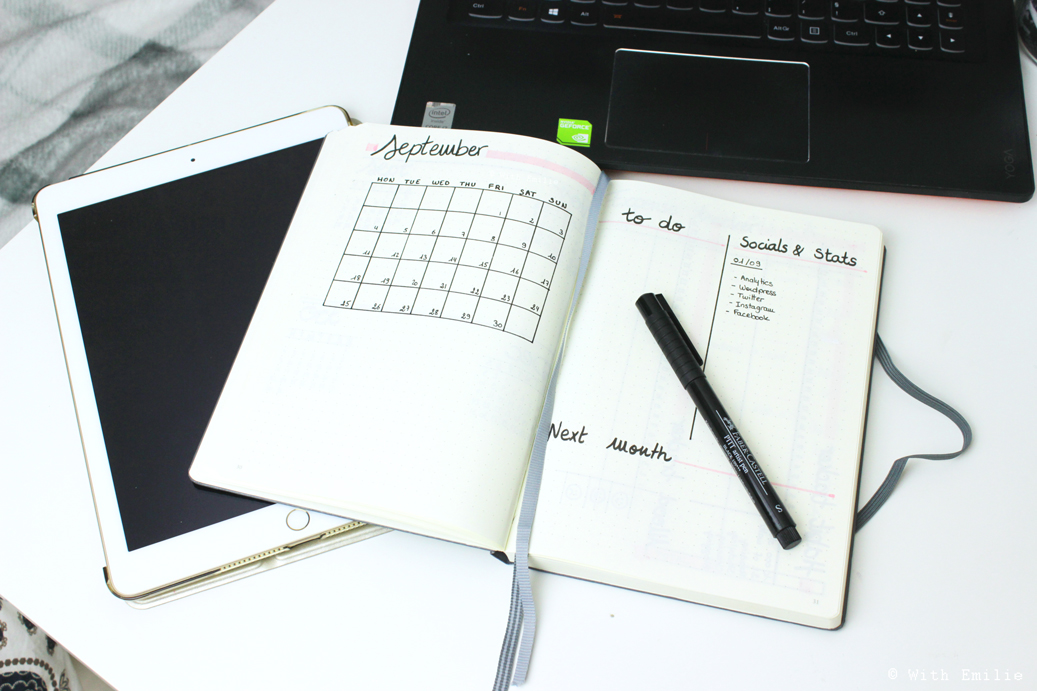 September Montly layout | Le mois de septembre
Mon mois de septembre ne compte plus qu'une simple double page, mais plusieurs. Je commence donc par vous montrer la vue « classique » que j'ai un peu déchargée. J'ai donc simplement tracé un calendrier du mois de septembre avec un espace en dessous pour y noter les événements important ou des notes.
My monthly setup doesn't count only two pages anymore but more like 2 – 3 double pages now ! I begin with a simple monthly calendar on the left page with a lot of space beneath it to write down every event or important dates. I kind of « emptied » this double page so I can focus on all the things when I need it.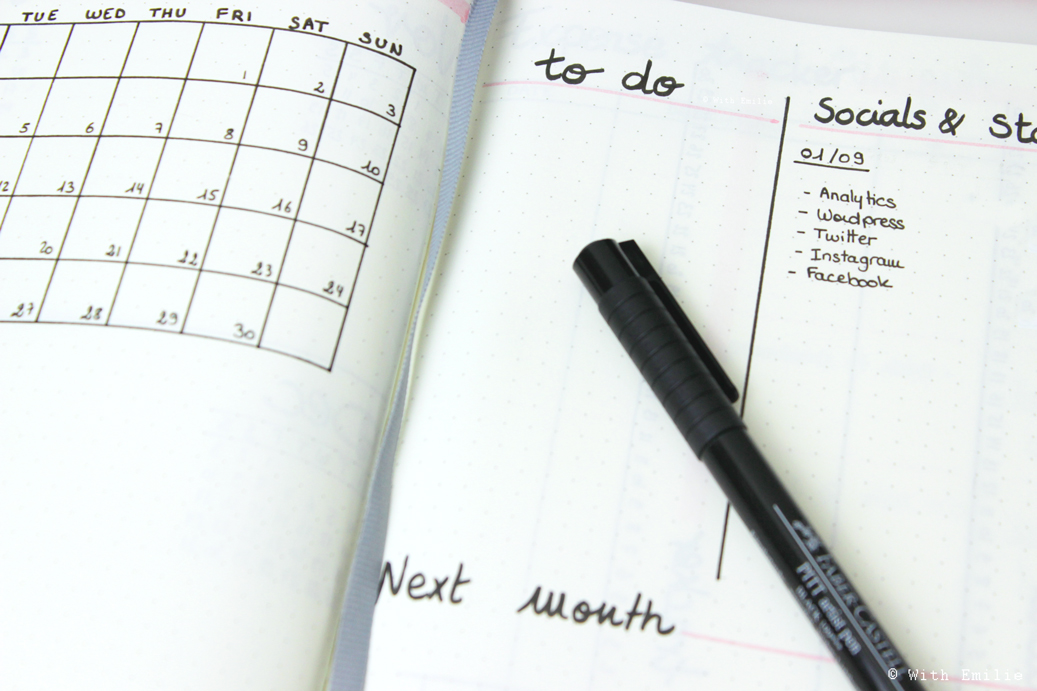 Sur la page de droite, j'ai coupé la largeur en deux pour y inscrite mes choses à faire ainsi que un petit « suivi » de mes statistiques du blog et des réseaux pour garder une « trace ». C'est Harmony Lu qui m'a inspiré pour ce petit encadré, je trouve ça sympa de voir l'évolution (pas pour courir après les abonnés comme elle le dit si bien), mais bien pour voir si les articles du mois ont plu ou si les publications sur les réseaux ont eu un public plus large.
En bas de la page de droite, j'ai réservé un petit espace pour le « futur log » du mois suivant. Si j'ai des événements à prévoir, des dates importantes, etc….
For the page on the right, I cut in half the width to put on one side my to-do list for the month and on the other side, all my social medias & blog tracker (followers, stats, etc…) so I can always have a written tracker. It's a Belgian New Yorker Blogger and Youtuber, Harmony Lu, that inspired me for this part. Just to keep track of everything and not to be obsessed by the number of followers. Just to know if my posts are liked that's it ! 😉
At the bottom of this page, I put a « next month » space so I can write down events or things I need to to the following month (kind as a future log).
Personal trackers | Suivi personnel
La nouveauté, c'est l'agrandissement du suivi de mes habitudes sur une nouvelle page, ainsi que l'ajout d'un suivi de mes humeurs. En regardant les vidéos de Amanda Rach Lee, je me suis rendue compte que ses humeurs correspondaient à la régularité plus ou moins importante de ses habitudes. Du coup, je voulais essayer à mon tour et voir si le fait de réaliser correctement et le plus souvent mes habitudes notées, mon humeur resterait au plus haut.
The novelty is in the following pages, I used to have an habit tracker that was placed next to the monthly layout bu I wanted to track more habits and to try other trackers too. So I dedicated a double page to these trackers. The first one is my habit tracker as I said and beneath it, I made a mood tracker.
As I listened to Amanda Rach Lee bullet journal videos, she made me realized that, the days when she checks more habits in her tracker, her mood was always at his highest. So I wanted to try by myself and see if I can improve my mood with this tracker ! 😉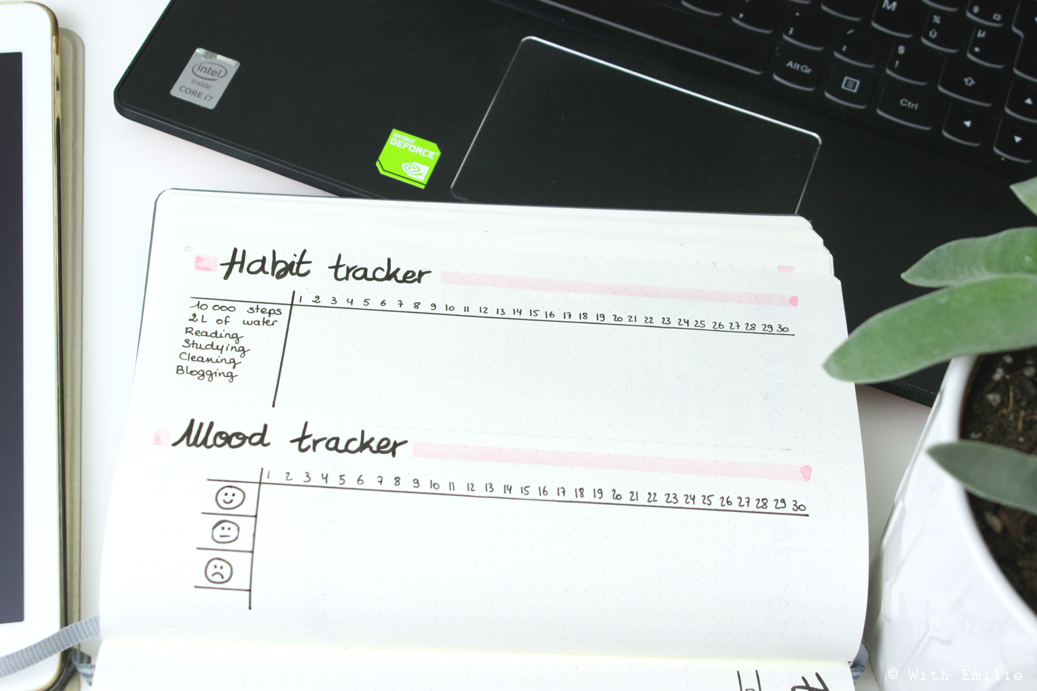 Sur la page de droite, j'ai choisi (encore sur le modèle de Amanda Rach Lee) de tracer un suivi de mes dépenses et de mes revenus pour bien mieux m'organiser et encore une fois, garder une trace écrite de tout. Parce que le numérique c'est top, mais ça a plus tendance à ne pas me faire réaliser tout ce que je dépense.
On the right-hand page, I also chose a layout made by Amanda Rach Lee : I wanted to track my expenses and every income I could have during the month. Her idea was totally neat ans simple, as I wanted.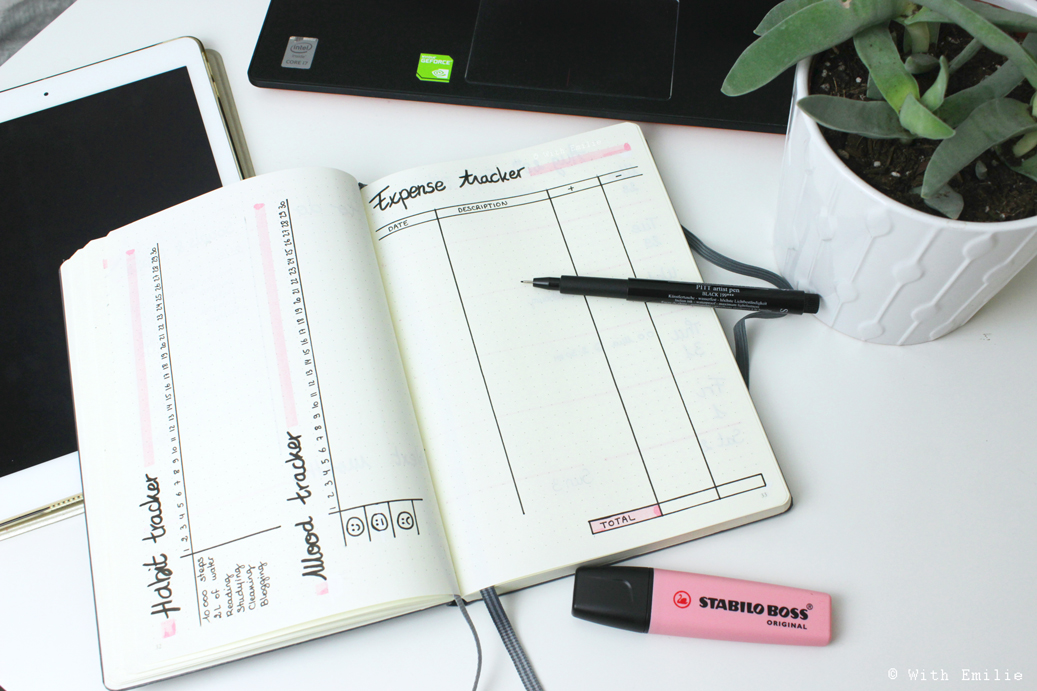 Weekly & Daily layout | Ma semaine et mes tâches quotidiennes
A la suite de ces trackers, on retrouve une vue d'ensemble de ma semaine sur une page (où je note les rendez-vous, les événements, toutes les choses importantes quoi). Et à partir de la page de droite, je commence mes « dailies » soit mes to-do list à faire par jour.
After all the trackers, come my weekly layout, where I write down events, appointments, etc… So I can see it in the blink of an eye. It's also quite practical while planing my days. an the following pages are simply my dailies / my to-do lists per day.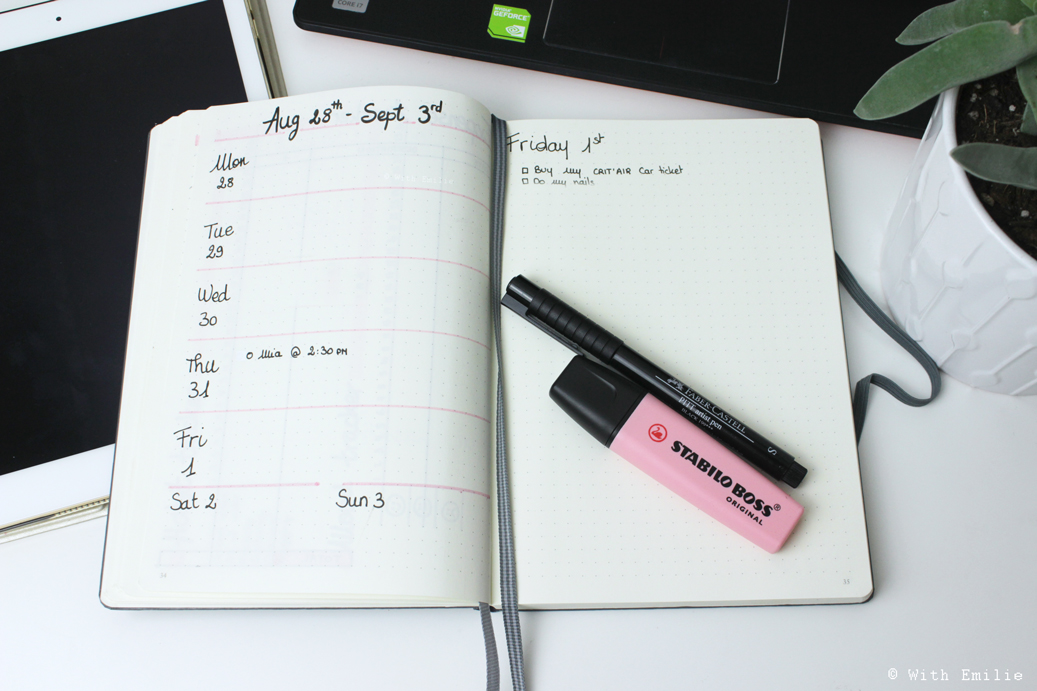 Tu as un Bujo ? Que penses-tu de mon organisation ?
Do you have a Bullet Journal ? Do you like my setup ? 
Xoxo