Hello mes beautés !
En ce moment j'ai envie de changement sur le blog, comme vous avez pu le constater avec la catégorie « Positive Vibes » de mon blog qui se développe de plus en plus. Et pour cause, j'ai décidé que 2016 serait une année sous le signe du positif et que je profiterai de mon blog pour partager des billets humeurs, inspirations, changement de vie, etc…
Aujourd'hui je viens vous exposer 25 choses simple qui me rendent heureuse au quotidien ! Un moyen d'en savoir un peu plus sur moi tout en partageant que positif sur le blog.
N'hésite pas à me donner tes petits bonheurs quotidiens dans les commentaires ! Je serai ravie d'en savoir un peu plus sur vous également.

Hi Beauties !
Right now, I'm looking for changing habits on my blog and, as you can tell the « Positive Vibes » Category is expanding with new posts on simplicity, wellness and positive habits I want to share. I've decided early this year, that 2016 will be the beginning of new life habits and focused on positivity. What a better way to use my blog to share it with you !
Today I'm going to expose 25 things that make me happy everyday or occasionally but easy to do and with great results on my mood !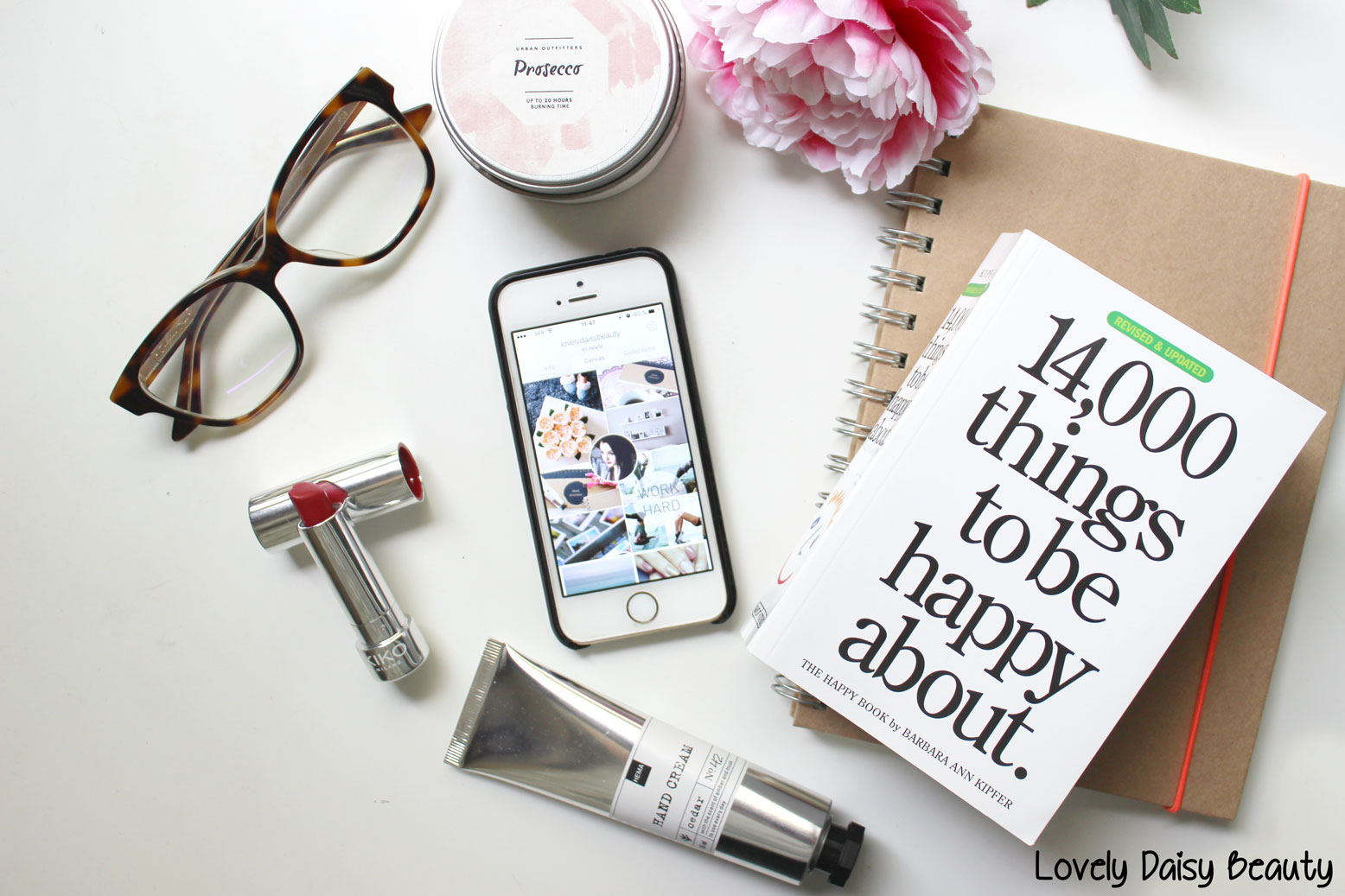 1) Me lever tôt et profiter d'une longue matinée productive
Get up early and enjoy a long and productive morning
2) Glisser mes pieds sous un plaid tout doux
Put my feet under a soft blanket
3) Traîner dans mon sweat à capuche hyper large
Hang out with my oversized Sweatshirt on
4) Passer des heures au téléphone avec des amis habitant loin
Spending hours on the phone with my BFFs living far away
5)Boire un thé bien chaud
Drink a hot tea
6) Rechercher des « citations inspirantes » et les rassembler sur WeHeartIt 
Browsing for « inspirational quotes » over the internet and share them on my WeHeartIt account
7) Avoir des conversations philosophiques pendant une soirée entre filles
Having philosophical conversations during a sleepover
8) Tomber par hasard sur une chanson à la radio et la chanter à tue-tête
Lipsynching a song you love when you heard it by chance on the radio
9) Faire brûler une bougie en soirée et apprécier la lueur de la flamme
Appreciate the light of a candle while burning
10) Respirer le bon air frais pendant une promenade
Breathe the fresh air during a walk

11) Porter un joli rouge à lèvres
Wearing a pretty lipstick
12) Trouver le cadeau parfait pour l'anniversaire d'un proche et attendre avec impatience qu'il/elle l'ouvre
Finding the perfect gift for a person you love and look forward to give it to her/him
13) Regarder des photos et se remémorer souvenirs de ces moments
Looking at pictures and remember all the good memories of these moments
14) Passer des heures en librairie avec une amie
Book shopping with a BFF
15) Relire des cartes envoyées par mes amies
Reading again postcard sent by friends

16) Acheter pleins d'accessoires de bureau (carnets, stylos, etc…)
Buy a lot of organizing stuff, notebooks,etc, from a stationery store
17) Passer des après-midi à planifier un voyage de rêve
Spending afternoons to plan the best trip ever !
18) Les ondes positives après une séance de sport
Feeling the positives vibes that came to you after a sport session
19) Lister des phrases de mes livres préférés
Listing favorites sentences/quotes out of my favorites books
20) Ouvrir un colis fraîchement arrivé dans sa boîte aux lettres
Open a package from an online order that I've been wainting for

21) Le bruit des vagues et le vent salé au bord de la plage en basse saison
The sound of the waves and salted wind when walking on the seaside during off-season
22) Danser sans prise de tête sur ma chanson favorite au milieu du salon
Dancing  on my favorite song in my living room without thinking
23) Se des burgers maison
Cooking homemade burgers
24) Préparer un article sur le blog
Planning a blog post
25) Faire des photos (pour le blog, instagram, fond d'écran, etc…)
Taking pictures (for the blog, my instagram account, for a wallpaper, etc.)

Qu'est-ce qui te rend heureux/se ?
What makes you happy ?