Hello ! Me revoilà avec un nouvel article Bullet Journal et pas des moindres puisqu'il s'agit d'une petite mise à jour de la mise en page ou « weekly layout » de mon planning hebdomadaire que je vous avais présenté il y a un moment dans l'article juste ici.
Hi there ! I'm back with a new bullet journal blog post ! It's quite an update of my last bullet journal weekly layout I presented you on a blog post right here. This time it's about my job planner and a new way to organize my weekly and daily to do list.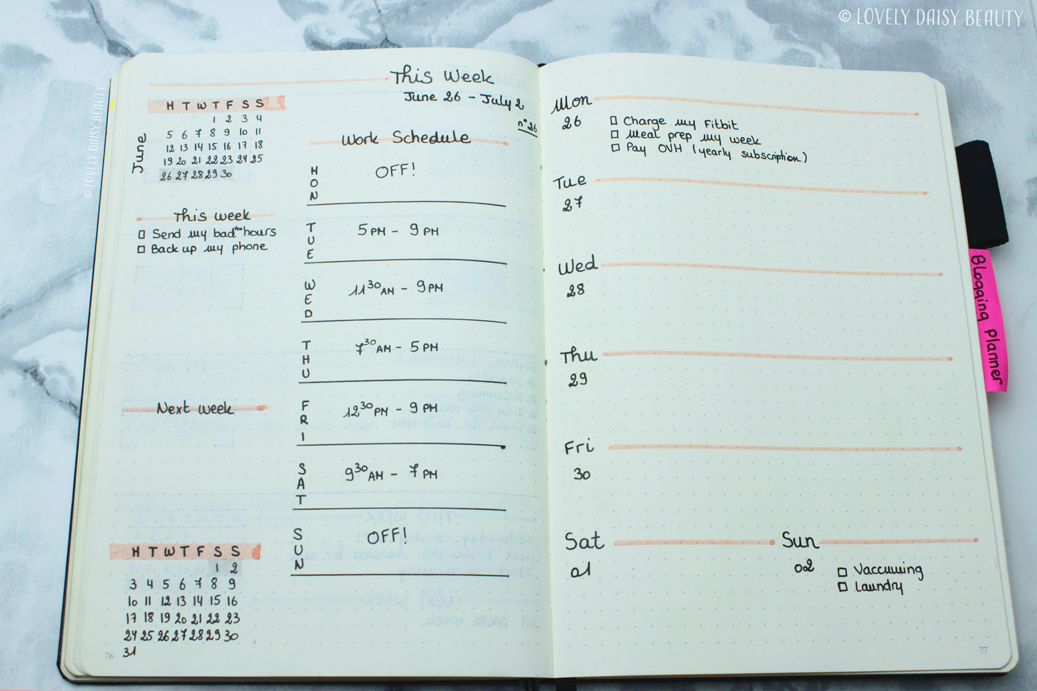 J'ai enfin décidé d'ajouter un peu de couleurs et de tout simplement changer complètement la disposition : je suis passée d'un simple planning hebdomadaire avec les jours « étalés » sur double page à une double page composée d'une part d'une vue élargie de ma semaine et de l'autre, d'un planning/to-do list selon les jours de la semaine.
I finally decided to add a hint of color and quite change everything about my previous layout : I came from a double page weekly spread with only the 7 days of the week to a double page cut in two part. The first one is for an overview of the week when the other is my basic daily to do list.
Week overview
Sur la page de gauche, vous pouvez retrouver un petit calendrier du mois en cours (et du mois suivant vu que cette semaine est placée sur le mois de juin et juillet), mais aussi les tâches à faire durant la semaine sans aucun jour fixé et celles prévues la semaine suivante.
On the left page, you can find a little calendar of the current month (and of the next one because this week is onto two months), also tasks I need to to this week (without an exact date) and the next one.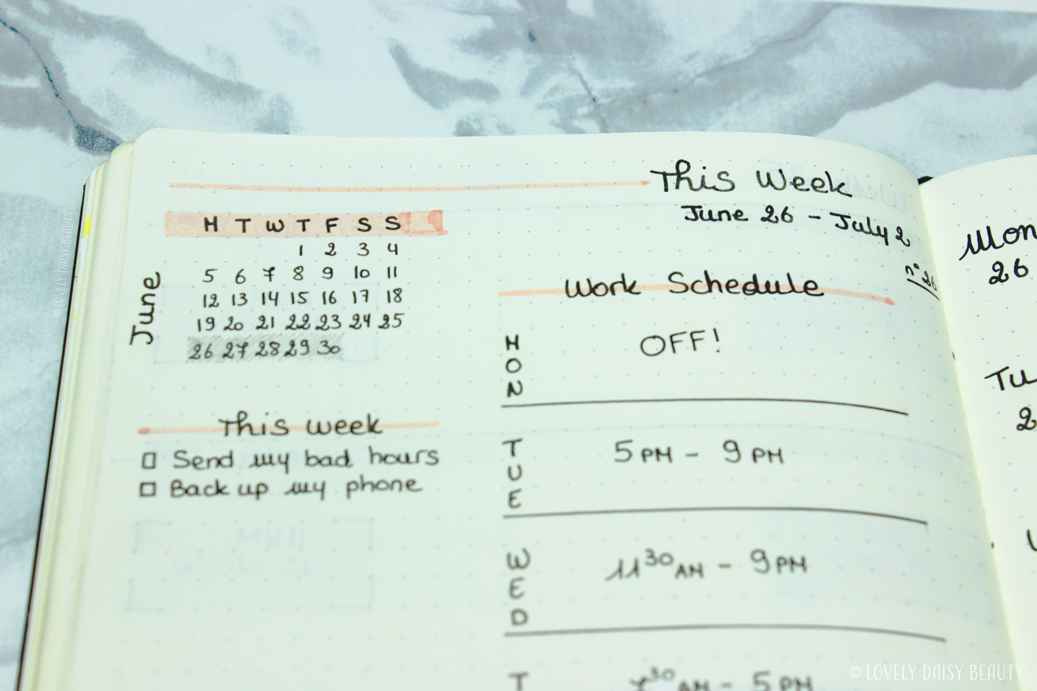 A côté de cela, étant donné que je bosse durant mes trois mois d'été, il me fallait trouver une solution pour noter mes horaires de boulot et me permettre en un coup d'œil de planifier ma semaine. J'ai donc simplement créé un mini planner pour y inscrire mes horaires journaliers.
Next to this, as I work all summer long, I had to find a way to write down my working hours so I can plan my week and know in a second when I am working and when I have a day off. So I decided to draw a simple planner with 7 boxes and the days' name.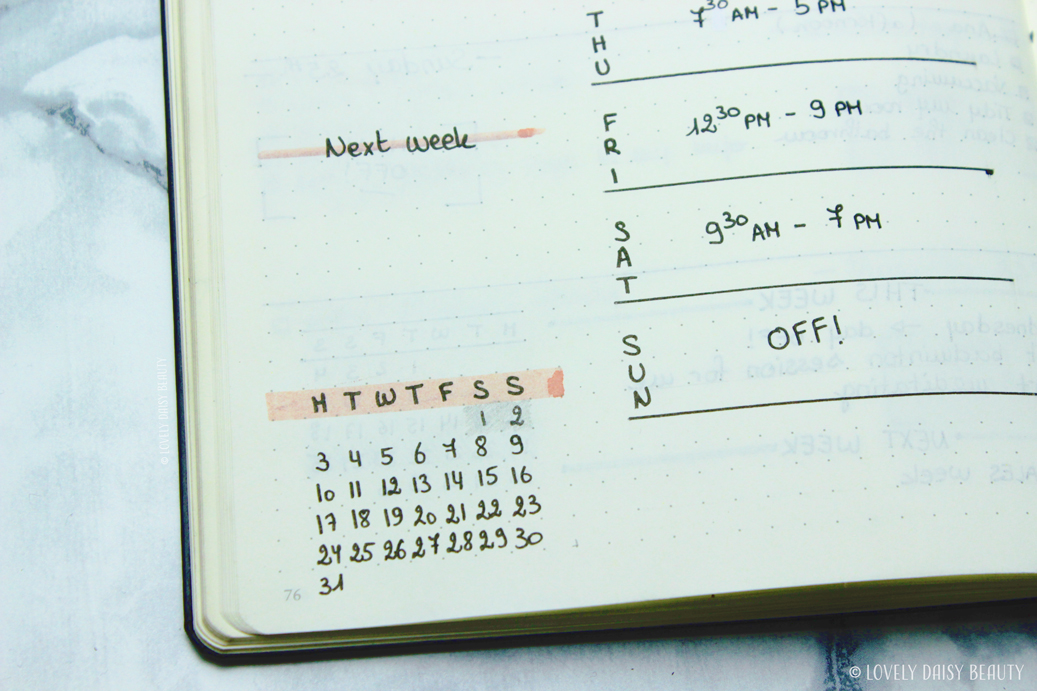 Daily To Do List
Sur la page de droite, j'ai simplement recréé mon simple planning journalier avec des petites cases à cocher pour les choses que j'ai à faire ce jour-là. Soit chaque jour je rempli la case du jour en question selon ce que je prévois de faire, soit chaque fin de semaine, lorsque je prépare ma double page, je rempli les quelques tâches à faire tel ou tel jour que je connais à l'avance (comme par exemple, ma routine ménage du dimanche !).
On the right page, I simply recreated my previous planning within one page. Now I just have to draw my little check boxes everyday with my t do list for each day. I write down my daily to do's each day or even each Sunday when I draw my layout, I simply plan my week with the elements I know in advance (like my fabulous Sunday housework routine !)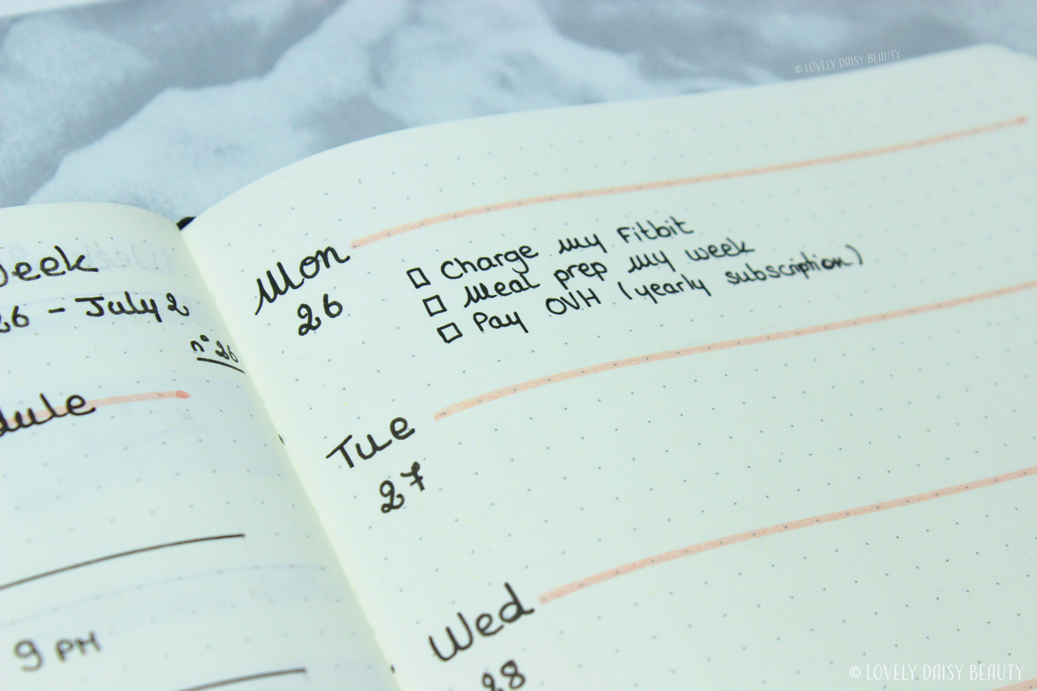 Que penses-tu de ma mise en page ?
What do you think about my weekly layout ?
Xoxo
Vous pouvez retrouvez tous mes articles Bullet Journal juste ici
You can find all my Bullet Journal blog posts here